We operate on the basic principle that if a landlord rep doesn't know what you need, they can't tell you about perfectly matching spaces.
Here's a sample tenant posting: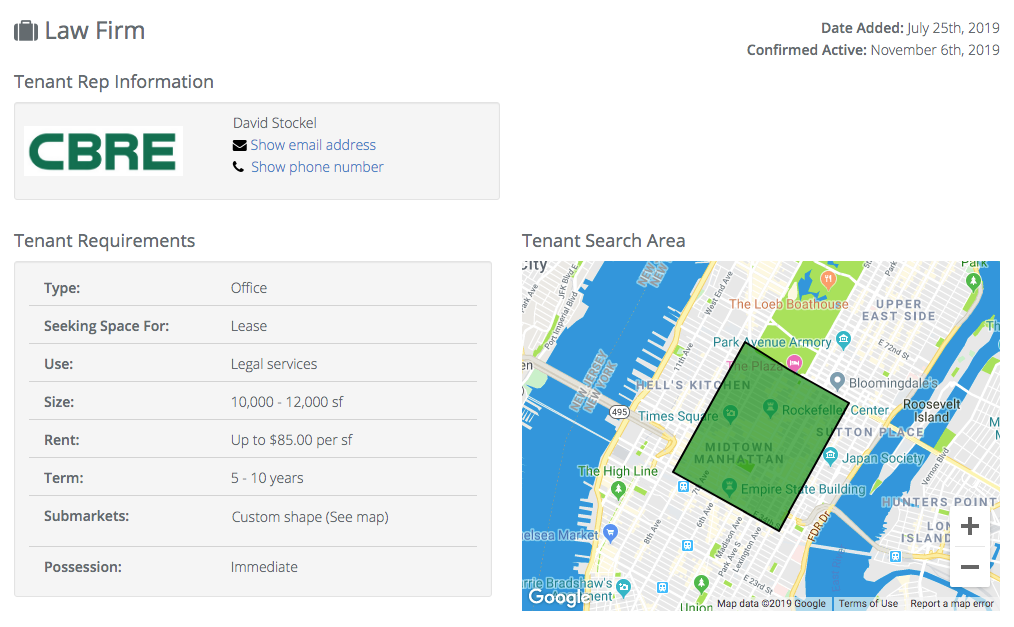 Each time you post a tenant requirement, it is run through the TenSource algorithm to determine which landlord reps have space that could work. We then send your tenant requirement to these landlord reps with your exact space needs along with your contact information. If they have appropriate space, they'll reach out.
Here's a sample Tenant Distribution Report that details how many landlord reps the requirement was sent to and shows a map of all the buildings it matched: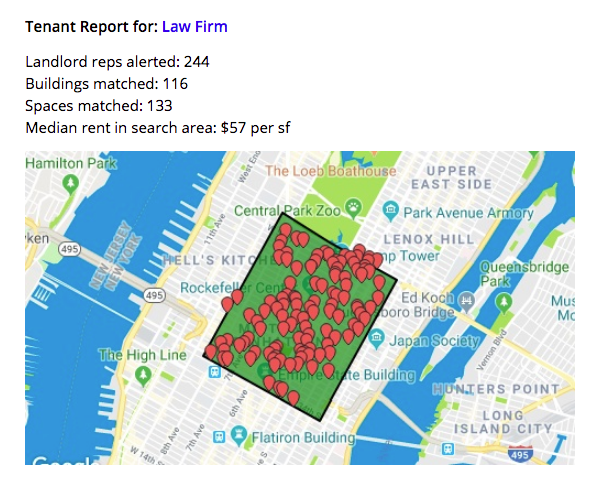 Posting your requirement is essentially issuing a request for proposal to landlords for the best they have to offer. Because they have a detailed description of what you need, if they have an appropriate space they aren't marketing yet, or a listing they are keeping off-market to avoid disrupting an existing tenant, they'll send those to you too.
Case Study 1:
Dan D'Agnes at WeWork Space Services closed a deal with GFP Real Estate's Donna Vogel by posting a Financial Services requirement to TenSource. When Donna saw the tenants exact space needs she realized it made sense for the soon-to-be-available 6th floor at 100 Crosby St, which wasn't even listed to Costar yet. She contacted Dan and they closed a deal in just two months. There was no other practical way for Dan to find that unlisted space, and if he had found it a month or two later, after it had been listed, he would have been one of many tenant reps reaching out for more info.
Note: We do NOT blast your tenant requirement to every landlord/landlord rep. On average, we send a tenant requirement to between 80 and 140 landlords/reps.
There is currently no method for consistently finding off-market space besides calling on your personal network of landlords and brokers. Posting to TenSource lets you contact another network of landlord reps giving you access to another set of off-market possibilities. While simultaneously growing your personal network of landlord connections. The two consistent pieces of feedback we receive from tenant reps is that they create new relationships through communications initiated on TenSource, and they find out about spaces they didn't already know about; spaces that weren't listed on property listings websites, or that had attractive characteristics for their tenant that wasn't obvious from the property flyer or listing description.
Case Study 2:
When Jordan Gosin at NGKF posted comedy company Funny or Die's office need to TenSource, Zach Price from CBRE saw it. Even though they knew each other and were within each other's "networks", Zach didn't know Jordan had a tenant that was perfect for one of his prebuilts at 44 Wall Street until he saw the precise tenant need. Zach reached out to Jordan about it and they executed a lease in short order.
Off Market Information
What exactly is off-market information? There's the obvious off-market listings, meaning unlisted spaces or pocket listings. Also included in this category are spaces that an agent or landlord fully expect to market, but they haven't created marketing materials for it yet pr it's just to early still. As discussed above, posting your tenants to TenSource will increase the likelihood of having off-market listings sent to you. But off-market listings are only a fraction of the off-market information you will receive. Off-market information includes a landlord willing to take a lower taking rent for short term deals; that a space is plug & play for law firms, (but they dont't want to advertise that and discourage other tenants from reaching out); that they're willing to divide the space but it isn't their first option.
Case Study 3:
Robert Kempner of ABS Real Estate had very specific needs for his fitness tenant high ceilings, a small ground floor with the rest of the ~5,000 sf requirement being below grade, and on top of that, a prime Midtown Manhattan location. He mentioned all of this when posting "Fitness Tenant" to TenSource. Jake Heine of CBRE saw it and realized Robert's needs matched his challenging multi-level availability at 900 Third Avenue perfectly. He reached out to Robert, and that's how Title boxing opened their second location in a hard to find, and hard to market space right in the heart of Midtown Manhattan.
Getting this off-market information is valuable not just for placing individual tenants in the best spaces for them, but also for your winning new tenant business. With superior off-market data, you can provide information other tenant reps don't know about. Knowledge is power and posting to TenSource extracts knowledge from landlords and their reps.
The common denominator being that if landlords know what you need, and they have space that works well, they will send it to you. But if they don't know what your client needs, you'll find out about their space when everybody else does. And if they don't advertise what makes their space perfect for your client, you may know about the property but never realize it's a perfect fit. How could you?
Recommended Way for Tenant Reps to Use TenSource
Upon getting a new client:
Step 1 - Post your tenant requirement to TenSource - takes about 2 minutes - to create a passive stream of available, relevant, and oftentimes off-market property information from landlords.
Note: Be specific about what you need and do not withhold information because you want to see everything, it doesn't work like that! If you're too general (no rent budget, large search area, no description of what you're specifically looking for), nobody will send you listings because they can't know if your tenant's a good match or not.
Step 2 - Search for space as you normally would.
That's it! Posting to TenSource barely delays you from doing what you usually do to find space while doubling your efficiency. By creating a passive stream of incoming information from landlords your tenant requirement works for you in the background while you do whatever you would have done anyway.
Why Tenant Reps Should Use TenSource
TenSource:
Is free
Carries no risk (tenant identity can be withheld)
Extracts listing data you couldn't otherwise have known about (off-market/pre-market/unlisted information, etc)
Earns you a reputation as an active tenant rep
Grows your network of landlord/agent contacts
Increases your likelihood of finding a "perfect fit" for your client (not just an "acceptable" space)
Overall leads to more/faster deals, happy clients, and more repeat business
Off-market information helps you win new tenant business
Common Objections
"I don't want to disclose who my tenant is"
You don't need to!
"I don't have time."
Posting a tenant requirement takes ~ 2 minutes, and once posted, works concurrently to your typical space finding process without your having to do anything. Since posting a single tenant requirement "alerts" on average 80 to 140 relevant landlord reps, it actually represents enormous time savings as compared to emailing, calling, or even looking through listings individually.
"I don't need help."
You might not "need" help but brokerage is business. Anytime you can conduct business with more efficiency, and outcompete other tenant reps, you should.
Brokerage isn't like many other businesses. Brokers don't create the market conditions that make tenants seek more space; it's the general economy that dixtates real estate demand. Rather brokers compete with each other for a bigger piece of the pie. Any increase in efficiency can and will help you earn that bigger slice and stand out from the crowd.
"As a tenant rep, isn't it my job to find spaces?"
It sure is, and that's why you need to post to TenSource. Your clients want to know that every acceptable space has been considered and that any and every approach you can use has been exhausted. Posting to TenSource represents going the extra mile for your clients (with ease, but you don't have to tell them that!). So post to TenSource, it's a tool for you to do your job better and faster, while finding more hidden spaces for your clients to consider.
"I don't want anybody to poach my clients."
The founders of TenSource are former brokers and designed TenSource with this in mind. No identifying information needs to be given out whatsoever. It is the broker's choice to disclose, or not disclose any piece of information they want. Tenant Requirement titles can be as vague as "Dry Use Retail Tenant" or as specific as "West Elm". We've found that the more descriptive you are, the better traction you will get but we also know the first deal we helped consummate the tenant requirement title was simply "Retail Tenant".
"I already know everything that's out there."
Let's say that it's true that you know of every available space in a given market (it isn't!). Do you know about every upcoming listing over the next 3 months? How about the next 6 months? A year? By posting your space need to TenSource you're giving landlords a reason to tell you about their upcoming spaces BEFORE they tell other tenant reps. So even if you would have found out about it eventually, it's always better to have the information first. Being first gives you time to tour and close on a space before it becomes public knowledge. Before other brokers have a chance to muddy your deal or create an auction scenario driving up prices.